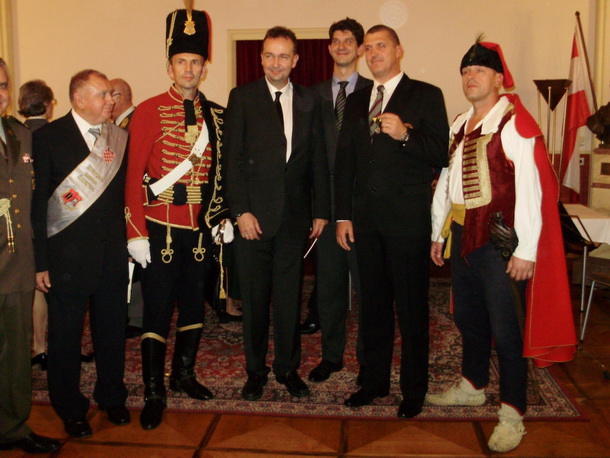 Archduke Karl von Habsburg, head of former Imperial Austrian and Croatian-Hungarian royal house Habsburg-Lothringen handed, inside Maria Theresa Barracks in Vienna, a memorial medal and a letter of appreciation to representatives of the Croatian historical units that participated in the funeral of his father Archduke Otto von Habsburg on July 16, 2011.
There were six Croatian historical units: Viteško alkarsko društvo Sinj, Karlovački husari, Zrinska garda Čakovec, Varaždinska građanska garda, Bjelovarski graničari-husari 1756 and Kliški uskoci.
The honours, in presence of high officials of Austrian Federal Army and historical units from Austrian neighbourhood, were received by Boško Ramljak, a member of the Board of Directors (today the "alkar vojvoda") of Viteško alkarsko društvo Sinj, Alojzije Sobočanec, president of Zrinska garda Čakovec, Ivan Marković, president of Court of Honour of Bjelovarski graničari-husari 1756 and Damir Žura, president and commander of Kliški uskoci. Croatian diplomat Claude Grbeša, who proposed and coordinated the performance of Croatian historical units at the funeral of Archduke Otto von Habsburg in Vienna and was also a part of the delegation of Pope's Order of the Holy Sepulchre of Jerusalem, was also honoured. Brigadier Tihomir Herceg, military envoy of Croatian Embassy in Austria also attended the awarding ceremony.
The Croatian delegation laid a wreath at the central Viennese cemetery at the graves of the Croatian heroes of Austro-Hungarian (Croatian) army - Field Marshal Baron Svetozar Borojević von Bojna, known as "Lion of Soča" and General Baron Stjepan Sarkotić von Lovćen, the last Governor of Bosnia and Herzegovina and military commander of Dalmatia and Montenegro.