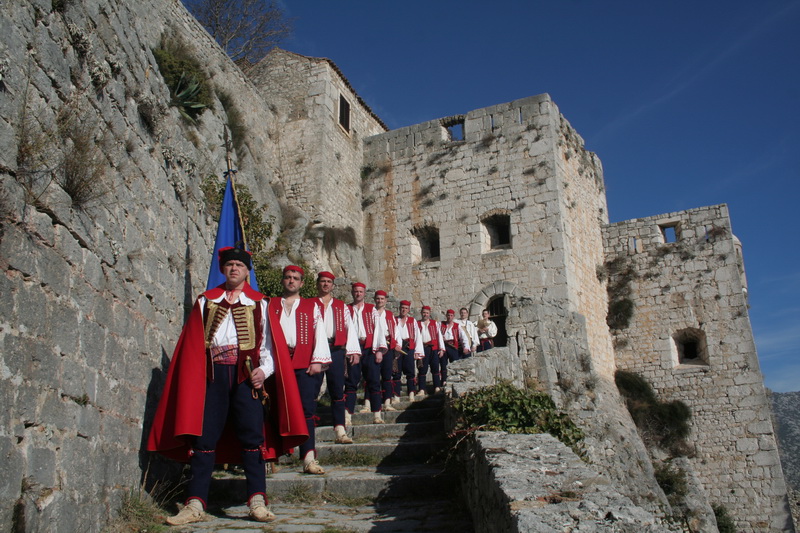 Historical Unit "Kliški uskoci" was founded in 2005 by veterans of Croatian War of Independence (Homeland War), members of 4th Guard Brigade "Pauci" (eng. Spiders) of Croatian Army. The idea of founding Historical Unit "Kliški uskoci" came from desire to revitalize historical and cultural heritage of Klis and thus create preconditions for touristic and economic progress of Klis. One of the reasons was desire to involve veterans of Croatian War of Independence in these processes and thus socialize them after the war trauma. As this-age warriors, they have sought inspiration in the most glorious period of rich and turbulent history of Klis, a period of thirty-year resistance to Ottoman invaders. Then, the only obstacle to Ottoman further breach into Europe was legendary Croatian commander Petar Kružić, Captain and Knez (medieval title used in Croatia, equivalent of duke, count or prince) of Klis, and army of his brave Uskoks.
Several Klis heritage enthusiasts have joined them in realization of this idea.
Historical Unit "Kliški uskoci" is a mobile monument of national cultural and historical heritage, which together with Klis Fortress, one of the most important and architecturally most beautiful fortifications in Croatia, keeps in memory history of glorious times when Klis bled to defend Croatia and the whole Europe.
Historical unit "Kliški uskoci" is an honorary unit of Croatian Navy.
Strategic plan 2019-2023
Operating plan 2019