Gvozdansko - forgotten heroism
Fort Gvozdansko was defended by around 300 Croatian knights, 50 soldiers of Zrinski noble family and 250 peasants, miners and women with children. The defence was managed by four brave captains: Damjan Doktorović, Juraj Gvozdanović, Nikola Ožegović and Andrija Stepšić. At the foot of the town, there was an army of 10 000 Ottoman invaders, together with Vlach troops. The conquest of Gvozdansko began on October 3, 1577 and lasted unexpectedly long - over three months, until January 13, 1578.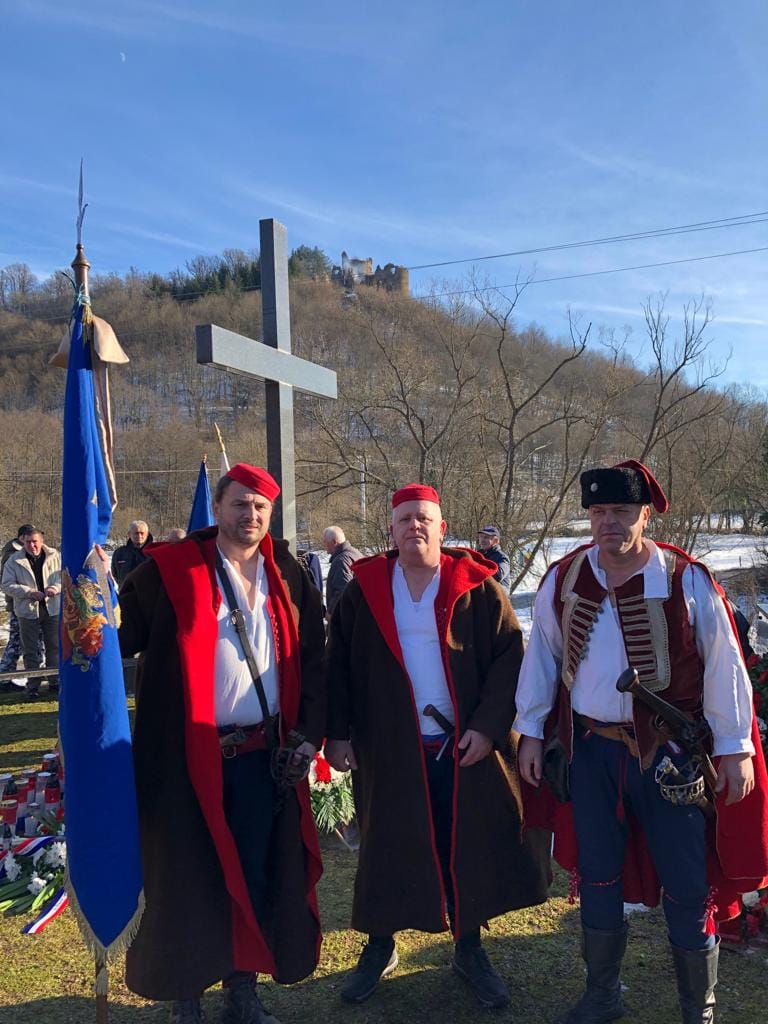 At the time of conquest, the defenders of Gvozdansko were not in contact with free parts of Croatia, so neither help in troops nor in food could arrive. Supplies ran out, and Ottoman invader Ferhat Pasha was aware of it. He offered the defenders of Gvozdansko to freely leave the fort with all their movable property and go to the free parts of Croatia. The third night after the bid, there was still no surrender. Those nights in January, in winter of 1578, trees were cracking from cold in the forest around Gvozdansko, and horses began to die in the open.
Ferhat Pasha commanded guards to make few more campfires. At the same time, fires inside the fort of Gvozdansko, at the night from 12 to 13 January, burned out. Everything was quiet and that disturbed the Ottoman guards. Because of fear that an attack could come from the fort, the Ottoman army was on standby.
At dawn on January 13, 1578, Ferhat Pasha commanded his army to move toward the snow-capped fort. When the Ottomans came to the ramparts of the town, they saw immobile guards standing with arms in their hands. They broke the town gate and found only frozen bodies. Three hundred men, women and children, months without enough food, water, and fire, remained frozen in the heroic defence of Gvozdansko. Ottomans won the town, but not the battle. Such courage and persistence impressed Ferhat Pasha, so he ordered to find a Catholic priest and to bury the defenders in Christian manner. It was an act of post-mortem honour and respect.
In memory of Croatian heroism in Gvozdansko, Kliški uskoci participate in commemoration of this unique event.
Croatian Martyrs' Day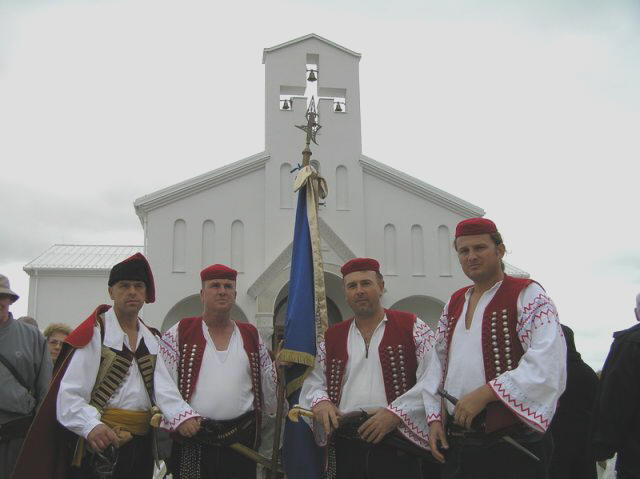 Croatian Martyrs' Day commemoration takes place in Church of Croatian Martyrs. That memorial church was built above Krbava field, place of one of the most tragic historical suffering of Croats. On that field, on September 9, 1493, thousands of defenders and flower of Croatian nobility died in the battle against Ottomans. That is the reason why Croatian Martyrs' Day is held on that date.
The Church of Croatian Martyrs was built to be an expression of faith and culture and to connect us with our roots. The appearance of the church in the direction of Krbava field resembles a fortress, indicating its defensive character. This memorial church is highlighted as the best way to preserve memories and remembrance of our ancestors. The aim is to awaken consciousness and responsibility for those who have given life for "honourable cross and glorious freedom". It also reminds us of those who have not been declared martyrs and have given lives for their homeland and their people. This is a sanctuary of gratitude and classroom of history.
Stones from places of mass suffering of Croats were deposited in this sanctuary, and Kliški uskoci brought a stone from Klis Fortress, which was the place of bloody battles for centuries and thus became a symbol of suffering, martyrdom and sacrifice.
Vukovar and Škabrnja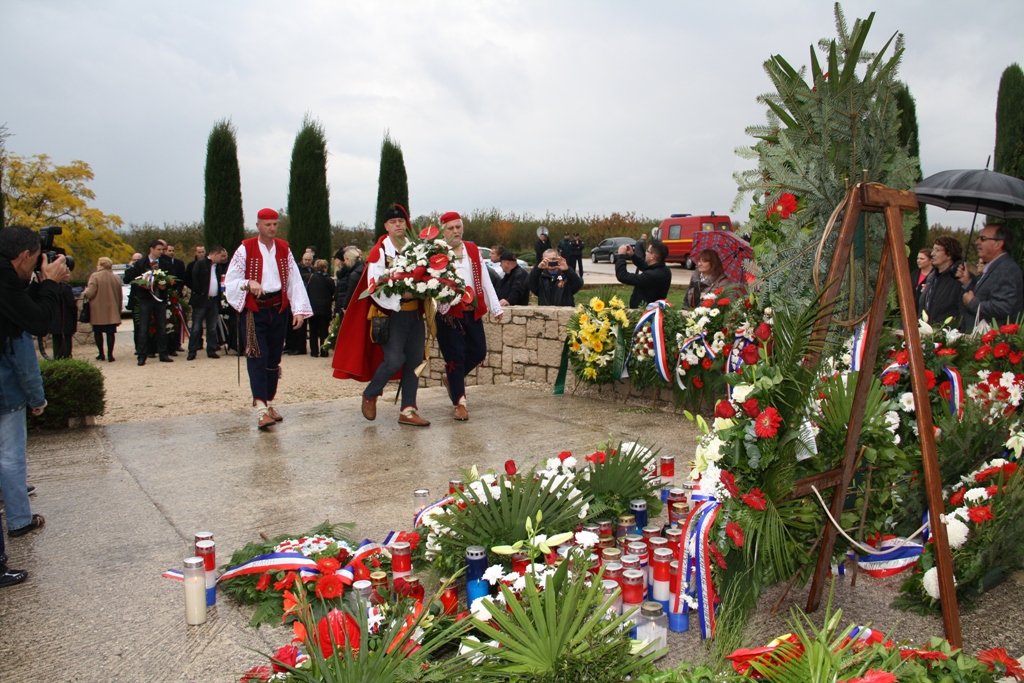 Vukovar Memorial Day is commemorated by the Memorial Column in Vukovar on November 18. On that day in 1991, after almost three months of the Yugoslav-Serbian siege, the resistance of Croatian defenders of Vukovar was broken.
JNA headship assumed that Vukovar would be won in a week, but battles lasted for almost three months, during which Vukovar and the surrounding area were shelled and bombed daily, with frequent tank attacks that aimed to separate forces of the defenders and occupy the city. Ratio between military power of conflict sides was uneven all the time. Croatian forces in Vukovar and the surrounding settlements never counted more than 3000, while on the other hand, 30 000 soldiers of Yugoslav National Army and Serbian paramilitary forces were besieging the city. The attack on Vukovar culminated in November when there were dozens of air strikes, and in some days, up to 11 000 grenades, bombs and rocket bombs fell on the city.
The city was under siege for 87 days, and the battle for Vukovar ended on November 18, 1991, by occupation of the city, which lasted until January 15, 1998, when peaceful reintegration of Croatian Danubian area occurred. Occupation meant expelling most non-Serbs from the city and the surrounding settlements. A war crime was committed against the wounded and staff of Vukovar hospital in Ovčara. According to Vukovar hospital data, 1219 defenders and civilians were wounded. Approximately 7000 prisoners were taken to Serbian concentration camps, and about 22 000 Croats and other non-Serbs were exiled from the city. Hundreds of children were left without parents, and today 300 of Vukovars are on the list of missing persons.
In memory of 18 November 1991, Croatian Parliament adopted (1999) the Decision on proclaiming Memorial Day on that date for the victim of Vukovar in order to dignify and appropriately pay tribute to all participants of the defence of Vukovar, the city-symbol of Croatian freedom.
Remembrance of the massacre and persecution in Škabrnja is also marked on November 18th.
After artillery attack on November 17, 1991, JNA and Serbian paramilitary units entered the village of Škabrnja and destroyed houses, facilities and a church. Women, children and the elderly were killed while leaving their shelters. The first day of Serbian occupation, 43 civilians and 15 defenders were killed. Massacre and persecution continued in the following days. During the years of occupation, until liberation in Operation Storm in 1995, the number of victims in Škabrnja increased to 86. Six more locals were killed after the war by remaining mines-explosive devices. There was not a single family in Skabrnja where no one was killed.
Kliški uskoci mark the suffering of the hero-city Vukovar and of the town Škabrnja by participating in the Memorial Column and by laying wreaths on the memorial of mass grave.
Homeland Thanksgiving and Victory Day
Homeland Thanksgiving and Victory Day, and Day of Croatian Defenders is celebrated in Croatia annually on 5 August, commemorating the victory in Croatian War of Independence (Homeland War). On that day, 1995, Croatian Army liberated the occupied city Knin in Operation Storm.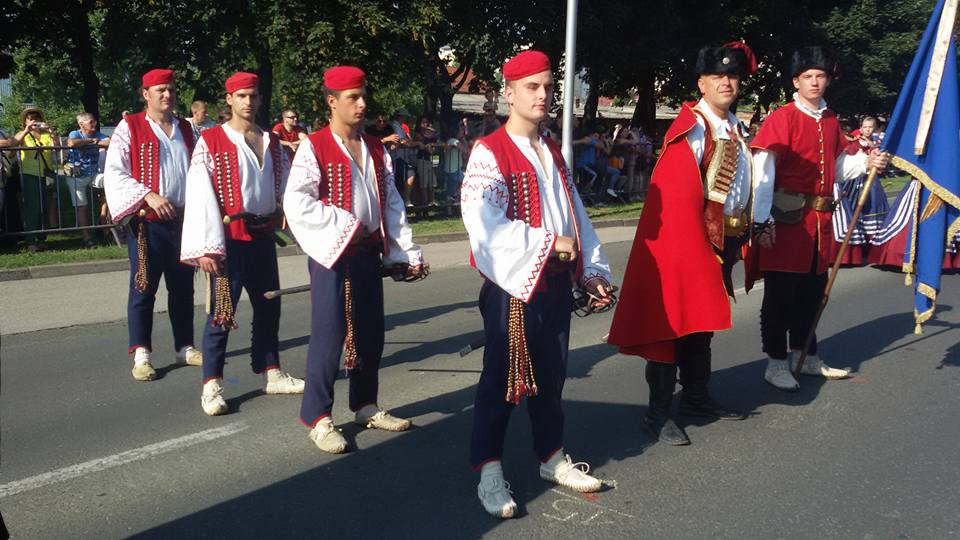 Kliški uskoci, whose members were members of the legendary 4th Guard Brigade "Pauci" (eng. Spiders) of Croatian Army, participate in the ceremony in Split. They were also part of the special military parade held in Zagreb on August 4, 2015, on the 20th anniversary of Homeland Thanksgiving and Victory Day, and Day of Croatian Defenders.